SMARTPHONE HOME AUTOMATION
THE ULTIMATE HOME AUTOMATION AND UNIVERSALREMOTE CONTROLLER
Fully Compatible with Byron Home Easy AutomationBring the Byron Home Easy system into the Smartphone Era



The RM-Pro will control all Home Easy Sockets and Switches using any iphone or android smartphone - within the home or from anywhere in the world !!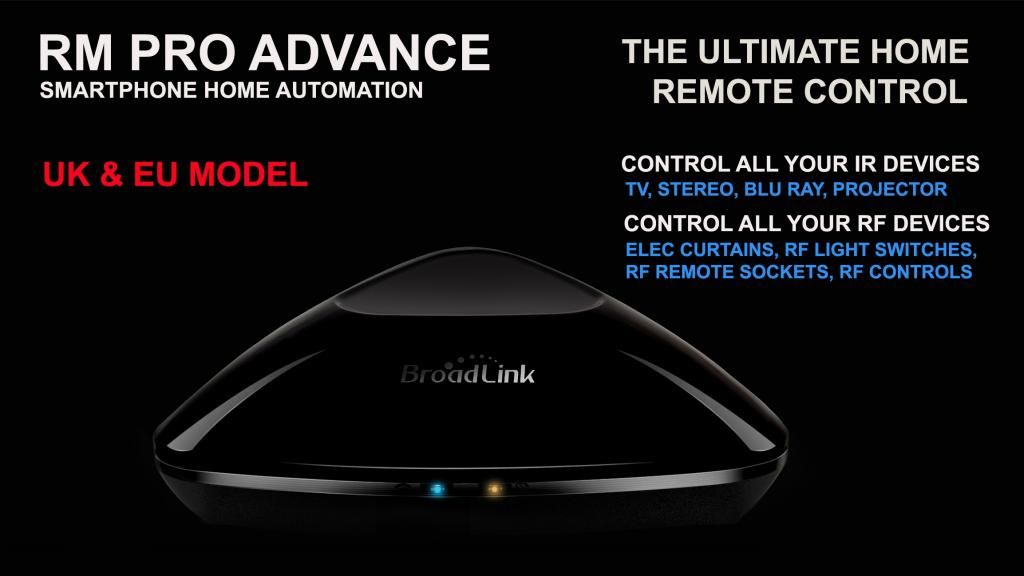 *** THE BEST GADGET YOU WILL EVER OWN ***



The First Truly Affordable Home Automation Device For EVERYONE !!
Use your phone from anywhere to control all your infra red or RF remote controlled devices.
These could be the TV, DVD or bluray Player, Hifi, Projector or any other IR device or appliance.
These could be Byron Home Easy RF remote control sockets and switches.
Use the E-Control App to switch them on/off or at pre set times -
GREAT FOR HOME SECURITY
OFFICE:
Switch the AC on or set the temperature.
Switch the water cooler on or off using RF sockets controlled by E-Control App.
Switch the electric fan or heater on/off.
HOW DOES IT WORK
This home controller features the latest technology with a universal smartphone Remote Control android and iOS App.
The E Control App features 15 built remote controls that you then manually configure or program from the cloud code library.
AMAZING TECHNOLOGY
It will control any device / appliance that is in its line of sight - at its front, back or side !!
It features 360 degree coverage thanks to its 7 high powered IR transmitters.
The Smart Controller utilises both 433 MHz frequencies.
With simple point and learn, it will clone any RF remote working within its frequency range.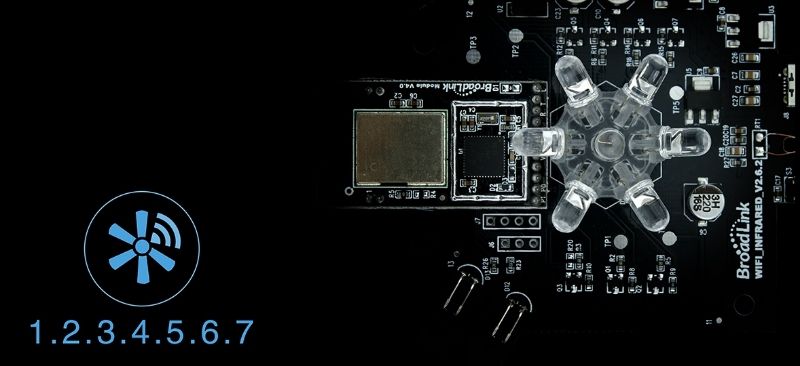 The RM Pro Advance is connected by wifi, wirelessly to your wifi router.
You can control the RM Pro wirelessly from anywhere in the world over your mobile network.
Control all the devices and appliances whose remote controls are saved in the e - Control App.
The Ultimate Air Conditioning Controller
The Smart Controller will also control any Air Conditioner.
The Controller is also able to automatically identify which AC you have and populate
the AC remote control screen.
Alternatively the E-Control App features a Cloud Code Library from which you can manually select your AC Model.
If your AC unit is not listed then you can manually clone your remote to the Apps bulit in AC remote control.
How to Setup home easy template created by halx
Go to apps store or google play store
search broadlink and download e-remote
Here you see 4 lighting buttons at the top
Pair the button with He107 HE108 HE202S HE202W HE206
All these products can be dimmed
Then you can turn on and off the light as well as control the light level with one click of a button
set the level from 20 to 100 percent using the ready built buttons
13 Buttons have been made should you wish to add some more products to the system like
HE304 HE830S HE302W HE332B HE109
Have a group on off button also that can turn sockets
1234 on or off with one button
Home Entertainment
INTEGRATED REMOTE CONTROLS
MY REMOTE CONTROLS
TC1 LIGHT SWITCH RETROTOUCH LIGHT SWITCH RF REMOTE CONTROL SOCKETS
PANASONIC TV PANASONIC PROJECTOR PROJECTOR REMOTE CUSTOMISED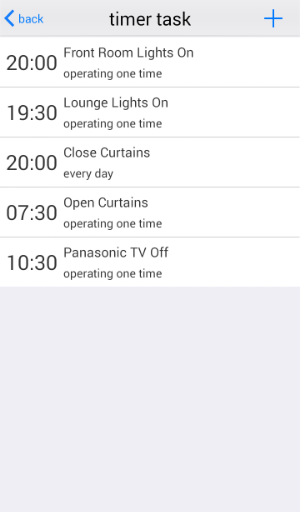 SKY HD BOX STEREO TIMER SCREEN